2008 Tonga/Fiji Journal Notes
<![if !vml]>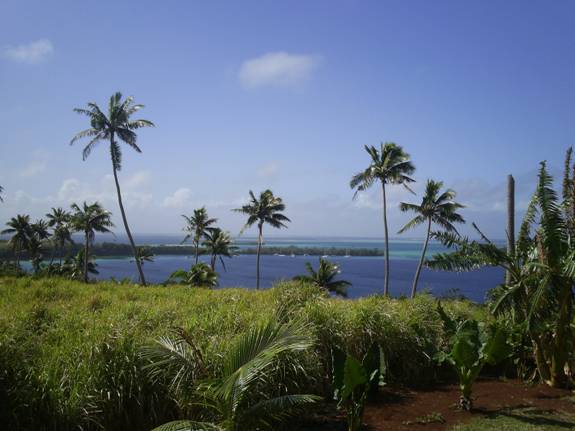 <![endif]>
Fellow Travelers:
Dan Blount
Sally Blount
Bryan Cowger
Collette Cowger
Ed Van Liew
Amy Van Liew
Favorite Sayings:
-There's your problem!
-Ed's Cooking Motto:  when in doubt add fat, sugar, and/or salt.
-Sorry, we're all out of pink….
-Your estro buddies are turning on you.
-Undercarriage scrub buddies
-rounding up to XX:00
-<fill in the blank>-itation;  eg; sailitation, scrubitation, foamitation
-fuga-fuga-fuga
-"game on"
-This is the best <fill in the blank> EVER.
Journal notes:
Saturday, 8/31:
Picked up Bryan and Collette.  We're finally on our way!
The flight to LA was uneventful.  Sally dropped us off at the SMF terminal, and then turned in the rental car, while Dan waited impatiently!  Got to LAX and walked over to Tom Bradley intl. terminal.  The lines for EVA Air were out the door, but no lines at all at Air Pacific.  Sally and I got pulled out of the security line and went through the fast track line--- good thing, because they really searched her bag.
Met Ed and Amy at the gate, and talked about what we would do if our luggage didn't arrive.  (hopefully not!). 
The flight to Fiji on FJ811 was uneventful.  Being at the back of the plane was both good and bad.  Good in that there were only two seats in each row.  Bad in that it swayed a lot!
Arrived in Fiji Monday morning 20 minutes ahead of schedule.  They are -5 hours + 1 day ahead of us (19 hours ahead) in time zones.  Monday is 11:00 PM Sunday CA time.  Time from home to the hotel door was 19 hours, 17 minutes,  but who's counting?  Of course, it would have only been 18 hours if our hotel shuttle bus had been on time!  All of our luggage arrived in Fiji (whew).  Got to the hotel (Tanoa International).  Our rooms were ready for early check-in.  (great!).  After breakfast and showering, the girls headed over to the Westin to drop off the bags while the guys hung out at the hotel pool. 
Tuesday, 9/2:
Wow!  We flew from Fiji to Tonga Tapu.  No problems so far.  However, when we got to the domestic terminal, we found that Air Fiji had gone out of business last week.  Our taxi driver, Edward, ferried us into town to get flights on Chatham Air, the only other airline flying to Vava'u.  While waiting for our flight, we had lunch of Panini's and drove around town.  We actually arrived an hour earlier than planned, so no harm done. 
Upon arriving in Vava'u, we got our boat; Sapphire Seas II, a 44' Beneteau (3 cabins, 3 heads).  Right away, it began to storm, so we decided to stay moored in Neiafu harbor.
While Bryan, Dan, and Ed scoped out the local bar's beer stocks, the girls went out foraging for provisions. 
We had dinner at the Mermaid restaurant.  The highlight of dinner was that the power went out just prior to serving, so the meals were served by the light of the waitress's cell phone. 
Overnight we had a great storm blow through.  Lots of lightning and tremendous thunderclaps, sounding like lightning hitting the masts of different boats!  We thought that it rained about 6 inches, based on the amount of water in the dinghy. (Bryan and Ed later determined that the dinghy had a leak, so it was probably only a couple of inches of rain).  The vent above Bryan's and Collette's cabin leaked, so they got drenched.
Wednesday, 9/3.
While Bryan, Collette, Ed and Amy sat through Sandy's skipper's briefing, Dan and Sally set out in search of fruit and veggies and discovered the local Farmer's Market.  After gathering the rest of the group, we all set out for more shopping in the rain.   The rain kept up all day, so we went to the Aquarium Café for huevos rancheros for lunch.  We decided to stay in the harbor another night, hoping for better conditions tomorrow.   The rain is getting old…..
Thursday, 9/4.
What a difference a day makes!  We woke to blue skies and wonderful weather.  After a quick forage for last minute provisions, we sailed off.  We snorkeled off of Nuku island, off the main island of Kapa (anchor site 8).  Afterwards, we had a great sail with Ed, Dan, and Amy all taking turns at the helm.  We found a mooring ball at the "Ark Gallery" of Larry and Sherry (anchor site 11) at Pangainotu island's extreme Southern tip.  10 Pa'Anga to moor, or free if you buy something from Sherry. 
Sally and Dan made dinner… cold spicy noodles and oyster beef.  After dinner we tried kava for dessert.   Didn't know if it had any effect, will have to try again tomorrow without wine in advance.  Let you know tomorrow…..
Amy's saying for the day:  "I love kava, kava is good"  According to the travel guides, kava has the effects of alcohol, without the hangover.  One drink makes your mouth tingle, and if you have enough, you can't move.  The locals call it "brown label". 
We did find the Southern Cross, and had lots of discussions about alternate uses for Chloraseptic…..
Dinner recipe (to compare against the real recipe later)
Cold Spicy noodles:
<![if !supportLists]>- <![endif]>Rice noodles
<![if !supportLists]>- <![endif]>Peanut butter
<![if !supportLists]>- <![endif]>Sesame oil
<![if !supportLists]>- <![endif]>Chili paste
<![if !supportLists]>- <![endif]>Rice wine vinegar (oops, not in real recipe, that explains the additional tang!)
<![if !supportLists]>- <![endif]>Franzia box wine
<![if !supportLists]>- <![endif]>soy sauce
<![if !supportLists]>- <![endif]>garlic
<![if !supportLists]>- <![endif]>ginger
<![if !supportLists]>- <![endif]>honey
<![if !supportLists]>- <![endif]>crushed peanuts over the top.
Oyster beef
<![if !supportLists]>- <![endif]>Beef
<![if !supportLists]>- <![endif]>Red and green peppers
<![if !supportLists]>- <![endif]>Garlic cloves
<![if !supportLists]>- <![endif]>Ginger slices
<![if !supportLists]>- <![endif]>Marinade:
<![if !supportLists]>o <![endif]>white wine
<![if !supportLists]>o <![endif]>Corn flour (instead of starch)
<![if !supportLists]>o <![endif]>Salt
<![if !supportLists]>- <![endif]>Oyster sauce:
<![if !supportLists]>o <![endif]>Oyster sauce
<![if !supportLists]>o <![endif]>Soy sauce
<![if !supportLists]>o <![endif]>Honey
<![if !supportLists]>o <![endif]>Corn flour
Went to bed at , (rounding up to ).
Friday, 9/5-  Another wonderful day.
After toast and jam, Collette had us leave our mooring while under sail, sailing Southwest through the passage between Katafanga and Tounga.  We anchored off of Euakafu island.  While Bryan and Collette watched the ship, Amy, Ed, Sally and Dan went for a hike, looking for the tomb at the top of the island.  Took a while, but we found it! 
We then headed North between Oto and A'A Island, just off of Luakupa and Kitu.  We saw a couple of whales (mother and calf)… what an amazing sight! The mother both slapped her fluke next to a power boat several times, and showed off her tail as she dove.
We then headed to Swallows cave, but there was a snorkel boat already there, so we skipped it for today.  We then headed over to the Tonga Resort. But they were full for the evening.  After trying the Mala resort (watch out for the black mooring ball !), we gave up when the dinghy excursion couldn't find signs of life.  (we later read that it had closed).  So we headed back to Mooring for dinner at the aquarium restaurant (phone ahead!).
Saturday, 9/6:  Yet another wonderful day!
We headed back out for provisions on shore.  (got lots of cinnamon rolls) and scored some cheese (gouda and colby).  After swapping out sheets and towels we headed out for Hunga with Sally at the helm.  We swapped out the beer from Kingfisher to Becks - let's hope for less foam.
We stopped at the Ika-Lahi game and fishing lodge, but were turned away, so we anchored over by the local village and walked through town.  Hunga village has ~350 residents, one town building (with the phone), one primary school, and 6 churches.  We met a lady named Cia who invited us to church tomorrow.  We also bought 12 vanilla beans from a local lady for 40 pa'anga. 
After returning to the boat, a local trader, Vaha, stopped by our boat (in a dugout outrigger) to sell us some local necklaces.  After a beer and about an hour of chatting, we purchased several of his necklaces.  He then invited us to attend his church the next day but we told him he had already accepted Cia's invitation.  He then invited us to his house for a meal after church to which we accepted.  He departed to greet an incoming catamaran.
Ed ended up making "Tongan Enchiladas", with steak, Canadian bacon, cabbage, sweet chili sauce, homemade tortillas, a wonderful cream sauce made of butter, flour, 5 spice, coconut milk, chicken broth, mango juice and an eel sauce.  Delicious!  The drizzle (yes, he did make a drizzle) was made from soy sauce,   ginger, honey and a little sugar, reduced down.
We voted Ed's dinner as the best so far- "game on" for Bryan and Collette!
Some local sayings:
-O Fa tu  (oh fa too)  -cheers, literally, love from the heart.
-Malo Le Lei –hello.
Malo alpito  - thank you.
Fei Fei Hake – how are you?
Koa ai ho hinga – what is your name?
No fua – good bye (if we are leaving)
Alwa – goody bye, (if we are staying)
Sunday, 9/8:
We awoke to church bells ringing.  Hunga village has six churches competing for 350 folks.  After a breakfast of coffee and cinnamon rolls, and a warm shower, we headed into shore and church.  Cia met us and walked us over.  There were a total of ~30 folks at the service.  Her husband was the speaker (minister?).  The service was in Tongan, which meant we couldn't understand a bit of it!. 
During the service, little kids would wander up and down the aisles, with the adults giving them head slaps to keep them in control as they went by (It takes a village?).  Later Sally learned that in Tongan society, all of your mother's sisters are also your mother, and all of your father's brothers are also your fathers.  So I guess that meant that the kids were getting head-slapped by all of their mothers.
The singing was wonderful, and well worth the visit!
After church, we met Vaha, (who turned out to be a minister at a competing church), for a lite lunch of papaya/banana pudding, tuna wrapped in Taro leaves (LU), corned beef wrapped in Taro leaves,  and coconut/papaya juice.  After chatting for an hour, with an exchange of gifts (thanks Ed for the fancy filet knife), and a promise of a laptop from Bryan and Collette, we headed out at high tide with Amy at the helm.  The passage into the bay can only be done at high tide, as there were only a couple of feet of clearance under the keel.
We headed south around the island, thinking we'd stop at Blue hole for a snorkel (NOT!).  We stopped instead at Sisia which had a beautiful beach.  After a quick look, Bryan declared we would be ok if we were marooned there, because of all of the coconuts, bananas, and mango trees.  Sally stayed on board the ship while the rest of us went in to snorkel and sun.  We say a large clam with the bluest mouth EVER!
We then headed to Mounu Island for dinner at the island resort.  Dinner was tuna cerviche, followed by tuna steaks.  The appetizer was breadfruit chips.  Dessert was carrot cake (delicious!).  The resort has four huts called Fales, with room for 8 people max.  The owner (Alan) looked like a cross between someone in ZZ-Top and Tom Hanks in Castaway.  The owner's daughter spent the afternoon kite surfing, giving us a fabulous show, jumping, twisting, and turning. 
We also saw two sets of whales, one while moored at Mounu.
Speaking of mooring, to say that the anchor site is unprotected would be kind.  For the dinghy ride into dinner we had to dodge several reefs and outcroppings.  For the return Bryan and Ed scouted the way with their "lanterns" (aka flashlights).  Overnight the boat rocked constantly.  We all agreed that the next stop would be better sheltered. 
Monday, 9/8
After a walk around the island (the girls did their lunges and other bootcamp exercises), a tour of one of the Fales and picking up some homemade bread, we headed back.  Dan and Bryan snorkeled around the reef, seeing several schools of fish. 
Ed tried his hand at fishing… so far all he's caught is one small fish his first day, and some grass today.  After "breaking camp" we headed out for the Paella restaurant back by the Ark gallery.  The mooring ball at Paella was too windy, so we ended up at the Ark again.  We dinghy'd over to the restaurant for dinner (very rustic, but good food).  They have a goat named Chiquita and a dog named Dorito.  We also found that geckos can really catch moths! (yuck).  Eduardo came out afterwards to play Spanish guitar and sing.  Only Collette knew any of the songs.  After dinner we headed back for a rousing game of UNO, followed by a great night's sleep (which we sorely needed after the previous night)
Tuesday, 9/9:
Did I say a great night's sleep?  That's an understatement!  We awoke to another beautiful day.
After a great breakfast of banana pancakes (thanks Bryan and Collette), Sally and Amy did a workout with the water bucket and the broom, swabbing the deck.
The "plan" for tonight is to anchor off the west shore of Kenutu (anchor site 30).  To get there, sail south of Tapana, then south of Ofu, and dodge coral heads. 
So plans change a little.  We first sailed through a difficult passage; 2 green? buoys to starboard, followed by a red one to port, then dodge coral heads.  However, we never found the red buoy.  We did find our way to the old harbor at Neifu.  While Bryan stayed on board, he sent the rest of us on to shore to forage for food -  we climbed the backside of the hill and got water, beer, cheese, wine, and ice!.  We made it back in time to sail over to Kenutu.  We made it through, with Dan at the bow (in the rain) looking for coral heads.
After a successful anchor, we sent out a shore party to find the trail to the other side of the island.  (actually we all went).  We didn't find the trail, but that didn't stop us.  With Dan clearing the way of spider webs, we ended up on the eastern shore, with the surf pounding!  What a beautiful/spectacular sight!  After pictures we set off backtracking our steps.  Of course, we ended up bushwhacking across the island, with only a general idea of the right direction.  Ed finding a slightly different route than Dan, ended up taking his turn clearing the never ending array of spider webs on the way back.  Don't ask us how, but we came out on the beach at the same spot we went in.  Sally ended up with several souvenirs in the form of thorns in her leg from the hike.
Grabbed the dinghy and headed for the ship.  About half way across, the engine quit.  After a quick check of the empty gas tank, Bryan declared "There's your problem!"  We then started rowing back.  We got picked up by an Austrian, demanding "5 pa'Angas".  After towing us home, he settled for a beer instead.
Bryan, Ed, and Dan took "man showers" at the back of the boat while Collette made bruchetta out of the hot dog bun for appetizers.  Bryan and Collette then made spaghetti and a salad for dinner.  Using local sauces, the spaghetti had a definite BBQ flavor, which, while different, was good.
After dinner our goal was to make it to "rounding up to ", so we played UNO again.  The wind came up over the night, which kept Bryan up every hour or so checking the anchor. 
Wednesday, Sept. 10;
OK, I need to limit my alcohol consumption.  After breakfast of toast, peanut butter, and jam, we headed out.
Navigating the obstacle course is much easier with the sun at your back and no rain.  Our plans for the day are to sail to Port Maurelle at Kapu (anchor site 7) and check out Swallow's cave, then head to the Tongan Beach Resort (anchor site 5) on Pangaimotu for the Tongan Feast. 
It's a beautiful day, with the wind at our back (a running sail with a couple of jibes). 
We first stopped by Swallow's cave.  We dinghy'd in and around the cave.  Bryan and Dan went snorkeling on our second pass.  We then motored over to Port Maurelle for lunch.  We had Tongan noodles, crab salad, and  pineapple/chili salsa (way to go, Ed!).  Sally and Dan took rides in the bosun's chair.
After lunch we headed over to Mariner's cave.  On the way we saw spinner dolphins (wow!)  While Collette and Sally manned the ship, the rest of us dinghy'd over.  The brochure didn't lie, the entrance to the cave is about 6 feet under the surface, and a dive in of about 14 feet.  The cave is large, capable of holding about 50 snorkelers at a time.  The reflected sun comes in through the 25 foot wide cave entrance - a beautiful blue color. 
After Mariner's, we headed over to the Tongan Beach Resort on Utunagake Island, grabbing a mooring ball (successfully this time), and after "man showers" and drinks, headed in for a Tongan Feast and foo-foo drinks. 
The Tongan Beach Resort is a beautiful boutique resort with 8 rooms.  Dieter Dyck has run the place for 24 years, building it up from scratch.  He paid the king "a pig and 2 tuna" to lease a portion of the island where the resort is located, with ongoing rent of 10 Pa'Anga / week.  Since the king owns all of the land in Tonga, everyone leases the land from him.
Dieter claims that the resort is not a financial success, but it is a social success, providing jobs for 3 villages.  Dinner included kava, potato salad, octopus salad, more kava, taro, yams, lamb in taro leaf, corned beef in taro leaf, chicken curry, mussels, raw fish, salad, and suki yaki.  Dessert included ice cream, fruit salad, banana pudding, and bread pudding.
Dieter then read us a story about a lemon-dancing contest he once had, in which he substituted onions because he didn't have any more lemons.  He then had us do the contest with lemons.  Each partner had to dance with a lemon pressed between their foreheads.  The last couple to drop their lemon won.  Bryan and Collette won, with Ed claiming "hip interference" from Bryan. 
The rest of the entertainment included a kava-drinking band with a bass made of a wooden box and a jute string.  There were also local dancers (similar to Hawaiian hula), who oiled their arms and back so that spectators could paste Pa'Angas on them (now I understand why Tongan money seems so greasy).
After heading back to the ship in the dark (who forgot the flashlights?), Sally went to bed (immediately going to sleep), and the rest of us played UNO, with Bryan whooping us.  We had a great night's sleep, with little to no wind.  We also ran out of water, so we had to brush our teeth with bottled… We also have a plan for tomorrow to get more water!
Thursday, 9/11. 
After coffee (we had enough water for that, fortunately!), we headed back to Neifu to refill our tanks and go to breakfast at the Aquarium.  Service was leisurely (very slow!), since there was a large group just ahead of us.  We had serious provision withdrawal symptoms, but Bryan was finally able to herd us back on board.  Bryan sailed us away from the dock with a Jenoa sail and a port turn while still tied off at the stern - very nice!
We then sailed back over to Port Maurelle for a beach and snorkel day.  While snorkeling in, we saw some schools of small blue fish, which would hover over a coral head.  As you approached, they would contract en masse to the safety of the coral.  Ed found a palm frond outfit which he modeled for the rest of us. 
After resting on shore listening to Sally's iPod, Ed and Amy set up a game of beach bowling/horseshoes using a water bottle and stick as the targets, and coconuts as balls.  The girls won the first game, and the guys won the next two.  On the third game, the girls needed only one more point to win for several rounds, but Ed, through determination and drive, drilled the last shot right through the stick.
Since this was our last full day on board, we gave away most of our leftovers to a local woman who had previously sold Amy some carvings.  Sally later read that the villagers will all share in any food that is given to them, so we felt good about giving it away. 
We then had a great sail with Ed then Dan at the helm.  We sailed back to Neifu harbor, taking about 8 tacks along the way.  By the time we got back, we had our tacking technique pretty much nailed. 
Our last dinner was back at the Mermaid, where we asked for some oil for popcorn later.  We dinghy'd back (now where did we park?), for a last boat game of UNO, which Ed won.
Friday, 9/12. 
Woke early to a beautiful day.  After coffee and Beng-Bengs, we packed up the boat, and headed for the airport.  This time the Chatham plan was a 19 seat Metroliner III, which looked at least like it was made in the last 50 years.  We had a smooth flight to Tonga Tapu, where we hoped to find our driver Edward again (since only he knew where our hotel was for tonight).  Success!  Actually, not.  Edward picked us up and took us back to Friends Café in Nukuatofa for lunch.  His quote for a tour was way too much, so we dumped him.  We then tried to get a hotel, and checked in to the first hotel we found called SandyBoyz, (a real dump!)  None of us were happy with our choice, but we dumped our bags in a room and started exploring town.  We went for a walk along the waterfront, and stumbled upon the International Dateline Hotel, much nicer!  Needless to say, we decided to move.  We hiked back to SandyBoyz and 40 Pa'Anga later we had Sally and Amy and all our luggage in a taxi, while the rest of us shopped for T-shirts and trinkets.  After getting back to the hotel, Bryan slept by the pool while the rest of us relaxed.  Dinner was at the hotel (slow service, ran out of pizza).  Met an eye surgeon (from San Diego?) and his sister at the hotel, who we later thought must be stalking us, because we kept running into them over the next couple of days.  He travels all around Asia, doing volunteer eye surgeries at the local hospitals, while his sister does medical photography.
Saturday, 9/13. 
We decided to meet at for breakfast at Friends.  After breakfast, we rented a van to go exploring the island before our flight to Fiji later in the day.  With Sally driving (stay left, stay left), we headed out west searching for the Mapu' a Vaea blow holes.  What a magnificent site!  The ocean waves hit the shore, and shoot up over 30 feet through blowholes in the rocks.  Looks like hundreds of mini geysers.
After departing the blowholes we headed southeast, looking for the natural land bridge.  After some false turns, we ended up on the southern shore at a quarry, where Bryan inspected the hole-boring equipment.  Giving up on the land bridge, we headed back into Muku'alofa for Hawaiian BBQ for lunch.  We then picked up our luggage so that we could maximize our exploring of the eastern half of the island.  After Ed scored a six pack of coronas, we headed out, looking for Captain Cook's landing place (missed that).   We then got lost, and stopped by the fire station to get directions. 
The main roads on Tonga Tapu are paved… sort of….
After reaching the stalactite cave, we were told that to see them, we would have to swim in, and the fee was 10 Pa'Anga/person.  Screw that!  We hopped back into the van, and headed south to Hina cave at Oholei beach.  When we got there, we found a charming little resort where the owner showed us the cave and where he does his Tongan Feasts.  After a nice chat and a tour, we hopped back in the van and headed off for the airport.  We arrived right on time at and Sally gave the van keys back to the rental car lady (actually, we think that it was her personal van). 
Now we're off to Fiji and the Westin hotel!  The flight was smooth and uneventful.  Got to the hotel with no problems.  Bryan and Collette were put up in the Villas the first night and got moved the second day.  While advertised as an upgrade, it really didn't seem like one.
Sunday, 9/14.
We went for a walk and a run before breakfast.  We then decided to go off as couples for the day.  The girls scheduled "paw" appointments and Bryan scheduled a massage.  Dan scheduled for scuba diving for the guys for Monday.
Sally and Dan went to check out the shops at Port Denarau while the rest of the group checked out the pool.  While it rained, Sally and Dan were forced to stop at the Hard Rock for beer and nachos.
Dinner that night was at the Westin Steak House restaurant, with the girls really decked out, and Dan in a "sulu", the traditional Fijian "manskirt".  We got a lot of smiles and comments from the waitstaff.  We finished the evening with drinks and dancing at the bar, with a rendition of "What a Wonderful World".
Monday, 9/15;
Today is scuba and "paw" day.  After breakfast, the girls went to get manicures and pedicures while the guys went scuba diving off of _______.
The two dive sites were Magic reef, and Magic passage, which the book on Fiji claimed were the best dive sites on the main island of Viti Levu.  On the dive we saw two sharks, (black tip), Moray eels, a lobster, barracuda, and a lot of colorful reef fish.  The dive master had his hands full with the other group, so he left us pretty much alone.  While the diving was fun, I still think that the diving in the Caribbean is better. 
After watching the nightly fire ceremony at the hotel, we headed out on the "Bula bus" to the Hard Rock for dinner.  After stopping at the other hotels along the way, we all agreed that the Westin was the best hotel in Denarau.
Tuesday, 9/16;
Our last full day!  (or so we thought).
After breakfast, Ed, Amy, Sally and Dan headed into Nadi to check out the sights.  We started at the Hindu temple, where the guide let us in, even though we weren't properly dressed.
We then checked out the locally made crafts as wellas the farmer's market (and wished that we had had this in Tonga!).  After the tour and a workout at the gym, we headed to the pool to relax.  Ed and Amy gave each of us 5 questions to answer for his summary video of Tonga, and filmed each of our responses around the hotel complex.
Ed played volleyball with the staff, while the rest of us drank Coronas and relaxed by the pool.  Both Ed and Dan wore sulus to dinner at the Hamachi Tapaniaki restaurant.  Only their wives will ever know if they chose to go "commando" underneath.  We finished up the night with a game of UNO in the bar.
Wednesday, 9/17. 
Our last day in Fiji, (again, so we thought).
Amy and Dan did an early morning run while Sally walked.  Bryan and Collette worked out in the gym.  After a leisurely breakfast we adjourned to the lounge chairs for a final relaxing afternoon by the pool. 
After showering at the hospitality suite and a (not so) light dinner of tapas, we headed for the airport. 
We got there without any problem, only to find that the flight had been cancelled!  We later found that Air Pacific had discontinued the Wednesday flights, but had never bothered to tell us.  They offered to put us up for the night at the West Motor Inn.  Dan counter-offered the Westin, to which they agreed.  So back we went, this time with an Aussie named Samantha in tow.  Finished up the evening chastising our bar waiter for kidding that our flight would be delayed followed by  another game of UNO.
Thursday 9/18.  Is this Groundhog Day?
After talking with the folks at home, and getting our flight and car connections fixed, we headed off to breakfast.  Afterwards, we rented a taxi to take us to the Garden of the Sleeping Giant, a beautiful 50 acre orchid and natural garden conceived and built by the actor Raymond Burr in 1977.   Afterwards, we headed back to the port for lunch.  Since we didn't have to check out until , we then went back to the hotel to relax by the pool, and get ready for the flights home (hopefully this time!).
Made it to the airport, and were glad to see that the flights were really going this time.  After dinner at the airport, made it on board and got settled in for the flight home. 
After getting through Immigration and Customs in Los Angeles, we bid farewell to Ed and Amy, and the rest of us headed for our flights back to Sacramento on Southwest.
We made it home without any further problems, and were glad to see the dogs.
While it's nice to be back home, we had a wonderful time in Tonga and Fiji, and are looking forward to seeing everyone's pictures and Ed's videos!
Reflections:  (feel free to add yours, and pass around)
Dan.
Tonga was beautiful!  I still can't get over how clear and blue the water is.  The water inside of the surrounding reefs is very calm, and it makes the sailing a pure joy.  The difference between the waves inside and outside the reefs is dramatic.
The beaches are beautiful, and for the most part, deserted. 
Provisioning the boat was more difficult than in the BVI's, but still not really a problem.  You just have to be more open-minded regarding what you want to eat (and be first in line for Coronas when the ferry makes its delivery!)
The Tongan people are genuinely friendly, and very humble.  While they don't have much, they are willing to share what they do have.  Church on Hunga Island and lunch with Vaha were definitely highpoints of the trip.  Unlike some places we've visited in the past, I didn't get any feelings of being "hassled" by the natives.  The pace of life there is slow and relaxed.  Since all of their fresh water comes from rainwater flowing into cisterns and for the most part their electricity comes from either generators or solar, they have adapted to living a very low "carbon footprint" lifestyle. 
The community in the islands around Vava'u also seems to be pretty close-knit.  Sherry from the Ark Gallery noted that when big storms are imminent, they tow their houseboat onto one of the beaches or to the Tongan Resort until the storm passes.  We also saw folks from other islands meeting in Neifu restaurants for breakfast on the weekends.
Tonga overall comes across as a 'third world" country, but with pride (and pigs!).  We saw several places where there were once very nice courtyard walls and gates, which had been destroyed by storms.  You could imagine how the places must have looked in the past by looking at the ruined walls. 
I was also impressed by how clean Tonga was.  There were trash bins everywhere, which were obviously used, because of the complete lack of trash on the roads. 
While I feel that we got a taste of the true Tonga, I don't feel the same about Fiji.
Staying at the Westin was great, and a nice finish to our vacation.  However, Denarau Island doesn't give you a taste of the true Fiji, but rather that of a fancy resort complex.  (Not that there is anything wrong with that!)
In order to get a true sense of Fiji, I think that we would need to go back, and spend some more time on the outer island groups.
Would I recommend both Tonga and Fiji to others?  DEFINITELY!
Would I go back?  Tonga?  It depends.  While Tonga is great, it's difficult to reach for us in the US.  Very easy for folks from New Zealand, as evidenced by the number of Kiwi tourists in both Fiji and Tonga.  There are so many other places to explore, that I might hold off on going back.
Fiji?  Yes, but for different reasons.  I'd like to get a chance to explore the different island groups.  The tour books talk about the differences in each group, and they say that you need at least a month to explore each!